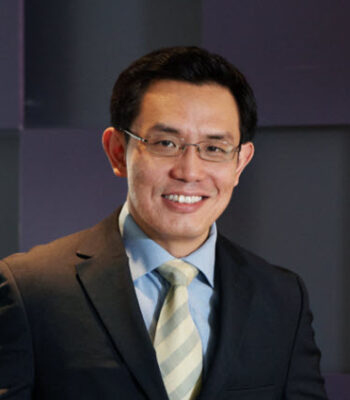 Abel Ang
Chief Executive Officer
Economic Development Innovations Singapore Pte. Ltd.
Mr Abel Ang is the founding Group Chief Executive Officer of Advanced MedTech Holdings, a US$300M global player in urology devices and services. The group has quadrupled its revenue since its founding.
Mr. Ang has a proven track record in the medical device sector. He has served as the Senior Advisor to the CEO of Greatbatch Inc (NYSE: ITGR), providing guidance relative to the commercialization of medical device technologies in the cardiac, neurology, vascular and orthopedic markets. Prior to Greatbatch, Mr. Ang was President, Asia/Pacific for Hill-Rom Inc. a US$3B revenue medical devices company (acquired by NYSE: BAX) where he was responsible for leading, developing and implementing the strategy to expand Hill-Rom's presence in the Asia/Pacific markets. He formerly served as the Chief Technology Officer for Hill-Rom for 3 years. In that role he had overall responsibility for Hill-Rom's global R&D operations which are distributed across sites in the U.S., Mexico, France, and Singapore. At Hill-Rom, he also held the positions of Vice-President and General Manager of Hill-Rom's US$420M Global Therapy Business unit, and Vice-President for International Business Development. He formerly headed the global Medical Technology and Biotechnology industry groups in the Singapore Economic Development Board (EDB).
Mr. Ang sits on the Board of Economic Development Innovations Singapore, a privately-held investment holding company headquartered in Singapore with direct investments in deeptech, education and listed assets. He sits on the Boards of various Advanced MedTech group companies: Dornier MedTech GmbH, AMT Pte Ltd, SonoMotion Inc,. and AWAK Technologies, where he chairs the Board. He was formerly on the Board and Nominating Committee of Aslan Pharmaceuticals (NYSE: ASLN).
Mr. Ang is an Adjunct full Professor at the Nanyang Business School in Singapore and Waseda University in Japan, where he teaches in their respective MBA programs. On the education front, he also sits on the Board of Singapore Institute of Management, a profitable private education platform, which has 16,000 students in Asia and 180,000 alumni.
Mr. Ang has a Master of Science in Computational Biology from Rutgers University in New Jersey, which he pursued while on an EDB scholarship. He attended Harvard Business School's Advanced Management Program in 2012. He was awarded the Public Service Medal (PBM) in 2021 for his contributions to the medical device industry in Singapore.