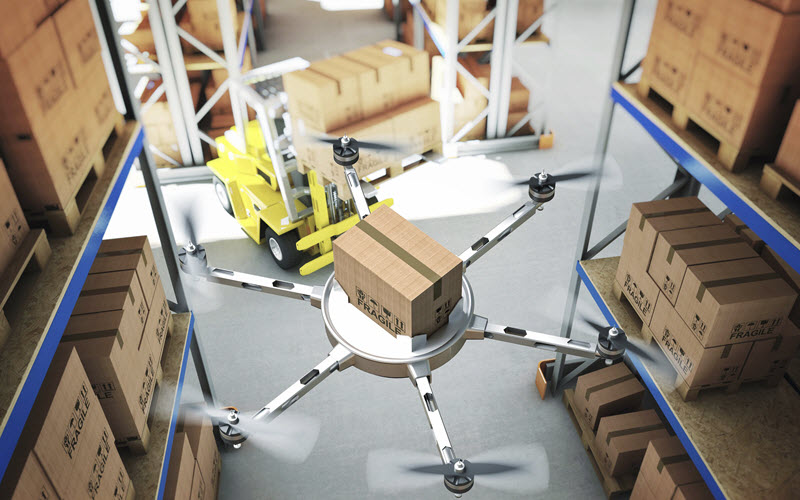 Imagine the day where all the daily daunting warehousing activities can be remotely coordinated comfortably in a virtual warehouse, welcome to the reality and future of warehousing operation.
In today business world time is money, organization are seeking ways to increase profitability while reducing cost, organization exploring new innovation to simplify process, optimize current warehouse operation, improved warehouse efficiency, waste elimination and maximize output with minimum input. With today IoT innovation it can help organization archived their efficiency and agility objectives, we will explore what are the IoT devices can help to transform the traditional warehousing business. With the advent of IoT, Internet connections now extend to physical objects that are not computers can sense and serve other purposes, previously none of these have traditionally been connected to the Internet they did not send, receive, process or store information.
IoT devices in receiving
Wireless readers' in receiving dock, capture data transmitted from each pallet as it arrives through inbound gateways. This data could include information on the product such as volume and dimensions, which could then be consolidated and sent to the WMS for processing. This capability eliminates the time-consuming task of manual counting and volume scanning of pallets.
Cameras attached to the gateways could also be used for damage detection, by scanning pallets for imperfections. Once pallets are moved to the right location, tags transmit signals to the WMS to provide real-time visibility into inventory levels, thus preventing costly out-of-stock situations.
With the help of sensors warehouse manager an track If any item has been misplaced, it also can alert and monitor the condition of an item when the temperature or humidity thresholds are about to be compromised allowed staff to take corrective action.
Personal wearables devices
Productivity increases from personal wearable command tools can increase warehouse efficiencies up to 30 percent; other wearables can monitor health and stress levels of employees through fitness trackers, while GPS and beacon technology can easily locate employees and prevent them from entering a dangerous zone and better managed employee activities in warehouse.
Through the use of smart glasses or voice command devices, step-by-step picking instructions can be transmitted visually through smart glasses, while two-way audio headsets can give users real time notifications pertinent to their activities in the warehouse.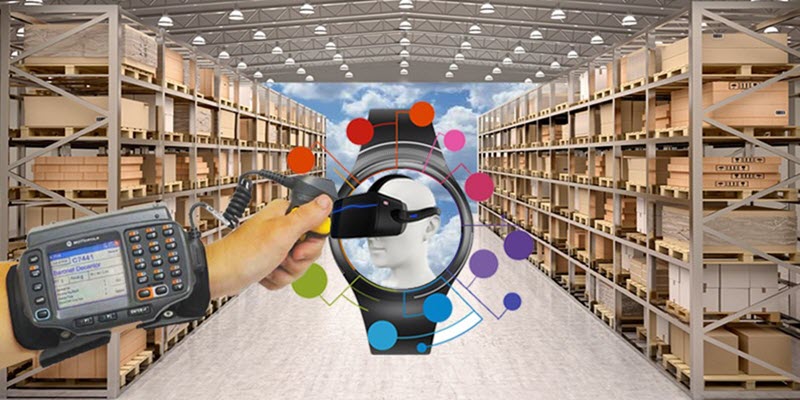 IoT in shipping
Pallets are scanned through an outbound gateway ensure that the right items – in the right order, for delivery – are being sent. Stock levels are then updated automatically in the WMS for accurate inventory control. Automate cycle counts, replaced pen and paper spreadsheets with mobile handheld computers and tablets that provide real-time access to warehouse management systems.
Stock sensors automatically trigger replenishment for low stock items, it increases inventory accuracy, reduce out-of-stocks, and enhance customer service, information then transmitted electronically to manufacturer for production of goods.
Iot devices can monitor and track the status of assets, parcels, and people in real time throughout the value chain. It can measure how these assets are performing, and effect change in what they are currently doing (and what they will do next). Automate business processes to eliminate manual interventions, improve quality and predictability, and lower costs. Optimize how people, systems, and assets work together, and coordinate their activities.
IoT devices in a forklift
Almost 80 percent of forklift accidents involve a pedestrian, by using telematics, sensors and actuators combined with radar or cameras attached to forklifts can allow them to communicate with other forklifts and scan the environment for hidden objects that could cause a collision. Forklifts could be programmed to slow automatically at intersections when another forklift or pedestrian is detected around the corner. Incorporated with load cell sensors forklift can alert the driver when load capacity has been exceeded or when the load centre is uneven.
Connected forklift in a warehouse also enable data to be collected and combined for predictive maintenance analytics, which can schedule maintenance appointments and calculate the expected lifetime of the machine at its current level of usage. By connecting machinery to a central system, IoT enables warehouse managers to monitor all assets in real time. Managers can be alerted when an asset is being over-utilized or when an idle asset should be deployed to do other tasks
IoT goods-to-box robotics system
Created to transform the fulfilment and material handling operations of warehouses providers. Robots' potential to improve productivity offers a solution for all of these problems by working alongside human workers to pick and ship more products faster for less cost per pick. The GrabIt robot can lift items up to 13.6kg and up to 61cm wide, ranging in size from a deck of cards to a 24-pack of carton. It can also reach up to 2.4m and work for ten hours on a single battery charge. Once a product is picked, a GrabIt can offload an item to its companion, TransIt, which can accumulate orders and take them to an awaiting box to be shipped.

Conclusion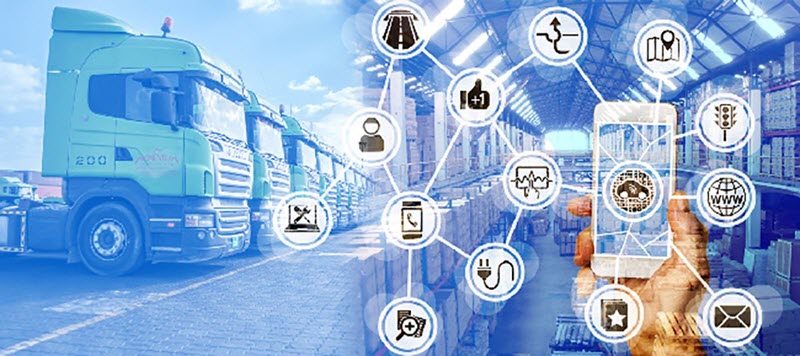 To successfully implement IoT in logistics will require strong collaboration, along with high levels of participation between different players and competitors within the supply chain, and a common willingness to invest. The shared end goal will be to create a thriving IoT ecosystem, important questions remain about the future of IoT, particularly in the realms of work, security, and privacy. IoT presents many opportunities for automation, and this is likely to change how some logistics functions.
---
References:
Dave Evans (2011) The Internet of Things-How the Next Evolution of the Internet Is Changing Everything
Retrieved from: https://www.cisco.com/c/dam/en_us/about/ac79/docs/innov/IoT_IBSG_0411FINAL.pdf (accessed 04 December 2017)
James Macaulay, Lauren Buckalew, Gina Chung(2015) Intent of things in logistic
Retrieved from: http://www.dhl.com/en/about_us/logistics_insights/dhl_trend_research/internet_of_things.html (accessed 04 December 2017)
James Moar (2017) "Smart Wearable Devices Fitness, Glasses, Watches, Multimedia,
Clothing, Jewellery, Healthcare & Enterprise 2014-2019,"
Retrieved from: https://www.juniperresearch.com/researchstore/smart-devices/smart-wearables/vendor-strategies-opportunities-forecasts(accessed 04 December 2017)
Jim Morrish (2014) "What's the Difference Between M2M and IoT?" Machina Research,
Retrieved from: https://machinaresearch.com/report/research-note-whats-the-difference-between-m2m-and-iot/ (accessed 05 December 2017)
Hardik Tuteja (2017) IoT: The Connected Forklift
Retrieved from: https://www.wmsight.com/blog/iot-the-connected-forklift (accessed 05 December 2017)
Kelly McSweeney (2016) First 'goods-to-box' warehouse picking system
Retrieved from: http://www.zdnet.com/article/goods-to-box-picking-system-with-disruptive-business-model/ (accessed 05 December 2017)