Warehouse is a commercial building for storage of finished goods, raw materials or semi-finished goods. Warehouses are used by manufacturers, distributors, importers, exporters, wholesalers, transport businesses, customs, etc. Today many companies recognize that implementing environmentally friendly or "Go Green" policies and practices can result in cost savings that directly impact their business.
Importance of Warehousing in Supply Chain
Whether an organisation is a manufacturer or distributor or retailer, it is well aware about the importance of warehouse and warehousing. This is especially so, when it impacts every aspects of the supply chain and thus affects the business profitability. In every case such as the shipment of finished goods to distributor or retailer, orders to customers or replenishment of production line or replenishment of cycle stock, the effectiveness of a warehouse should not be understated.
Since ages, organisations have been using warehouses/storage in one form or other, and it is expected that the warehouse will still be required in future. With time role, the importance, shape, related technologies, as well as IT systems have changed and evolved for the warehouse. If one is to look at the range of different industry vertical, it is inevitable to find that warehouses serve different type of industries and at different levels of automations.
The Role of IoT (Internet of Things) in Warehouse Management
In warehousing, the IoT is sometimes called the IoE, or Internet of Everything. It involves adding sensors and robotics to the modern warehouse. The machines take numerous measurements and collect many different data points around the warehouse. The analytics tools are able to process all of this data to find the most efficient, productive, effective, safe, and convenient ways of running the warehouse. Here are some of the roles the IoT is playing in modern warehouse management.
The Need for Lean Operations to driving competitive edge
The technology and tools are available today to clearly make the shift to combining a lean and automated strategy to significantly simplify daily operations and apply the right mix of automation to control the improved processes and business functions. This can be accomplished by identifying the strategies and tactics to "lean-up" the DC operation. It is especially important to design the means to use less labour touches and select the blend of automation that returns the fasted Return on Investment to gain competitive advantage.
Warehouse automation can deliver huge returns by eliminating redundant manual processes and increasing employee productivity. Technology such as conveyor systems, automatic print-and-apply labelling, robotic pick carts, voice picking, automated guided vehicles and storage technologies can drive high accuracy and rapid paybacks and when applied to the right application.
But automation alone will not solve the problem. Supply chain operations are made up of a complex interplay between people, process and product workflows. It takes a deep understanding of how these elements work together to truly drive the highest benefits of automation.
Key Benefits of a Warehouse Automation System
Reduced Land Usage
A warehouse with an AS/RS uses up to 40 percent less space than a conventional warehouse to store the same number of products. Automated warehouses have smaller footprints, so less land is used when building new facilities and results in less environmental impact to an area.
Less Energy Consumption
Automated Warehouses take up less square footage, they typically require less energy to lighting, heating and cooling. In addition, a feature of automated storage retrieval machines known as "regenerative braking" further eliminates wasted energy.
Reduced Product Waste
An Automation Warehouse reduces product damage because pallets are handled smoothly. Less stretch wrapping is required to secure pallets when moving, which results in less product waste.
Reduced Maintenance
Maintenance cost for AS/RS are lower than for lift trucks. Automated facilities save money on leasing costs, battery charging stations and replacement, cleaning costs, and lift truck damage repair.
Reduced Staffing
Another green benefits of Warehouse Automation is that fewer workers are required, thus reducing the carbon footprint of the overall operation.
Safety Benefits
Aside from reducing the risk of acute injury, since many of the repetitive and laborious duties in the warehouse are performed by automated systems, the risk of workers developing repetitive use injuries are also considerably less.
Greener Profits
One of the most attractive aspects of warehouse automation is the ability to improve productivity and reduce costs. The fact that the same automation technologies that can increase profitability have also been shown to have a positive effect on the environment makes warehouse automation a win-win prospect for the right business.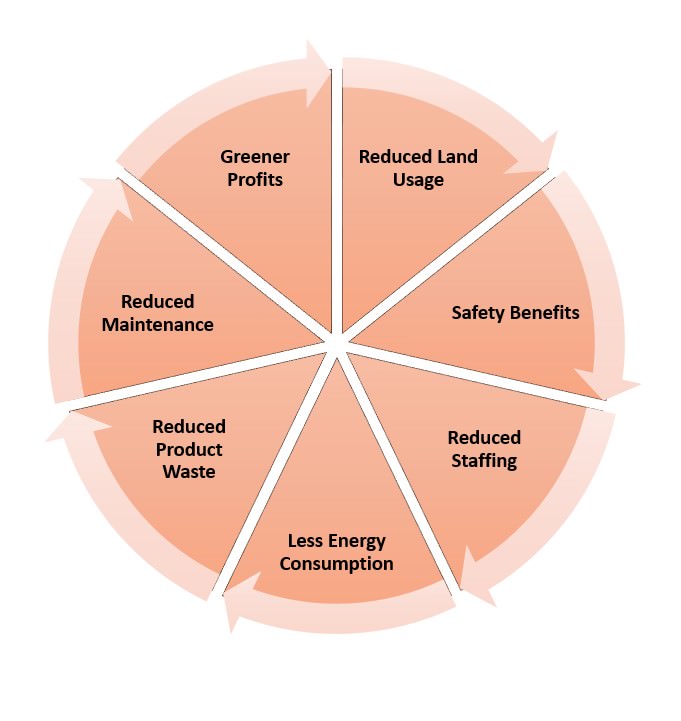 Conclusion
Several evolutions have happened in the warehouse industry and many companies are realising the positive impact of implementing Automated Warehouses in their businesses to drive global competitive edge. In today's market trend and the boom of e-commerce, this has fuelled greater expectations and demand, leading to the need for changes in a warehouse. With heightened demands from the marketplace, delivery needs to be faster yet accurate. It is my belief that automated warehouse technologies will continue to grow due to strong demand from e-commerce in global market.
---
References:
Amit Ranjan (2016) "Changing role of the warehouse in modern supply chain". Accessed from https://www.linkedin.com/pulse/changing-role-warehouse-modern-supply-chain-amit-ranjan
Craig Badrick (2016) "The Role of IoT in Warehouse Management". Accessed from http://www.turn-keytechnologies.com/blog/guardian/the-role-of-iot-in-warehouse-management
Laura Worker (2010) "Greening the Supply Chain through Warehouse Automation". Accessed from http://www.inboundlogistics.com/cms/article/greening-the-supply-chain-through-warehouse-automation
The Numina Group (2017) "How the Right DC Roadmap Can Lead to Free Warehouse Automation". Accessed from http://www.numinagroup.com
Tim Hollins (2012) "7 Green Benefits of Warehouse Automation". Accessed from http://warehousenews.co.uk/2012/02/7-green-benefits-of-warehouse-automation