Distribution Centre is a warehouse used for receipt, temporary storage, and redistribution of goods according to the customer orders as they are received. Also called branch warehouse or distribution warehouse. In 2016, total e-commerce sales reached $394.9 billion, and initial findings suggest 2017 will surpass last year's sales. Thus, warehouse and distribution center management will face added pressures to do more this year with the same, if not fewer, resources. But effective and successful distribution management should take advantage of technological advancements and encourage innovation to meet demands of e-commerce and omni-channel sales.
Strategy 1: Use Technology to Work Smarter, Not Harder.
Distribution centre management technologies have advanced over the years beyond the standard, pen and paper recording. Modern technologies can automatically identify products, reorder product and much more. However, it is up to warehouse managers to implement and use these technologies to work smarter, not harder. Meanwhile, new systems can provide better benchmarking and management of overall systems. Peaks in warehouse operations, especially during the holiday season, can increase by many folds. This means every aspect must be managed and controlled. Technology provides numerous instant sources of information almost accurately.
Communication by email is a great communication tool, however, when it comes to time-sensitive communication; direct contact is much more efficient. Make use of one or more of the wireless technologies available to increase your productivity. A key in selecting technologies is that they must integrate and work together. Whether you choose to communicate through radio, laptop or smartphone, invest in a system that all departments can use consistently.
This will give your warehouse real-time efficiency and improve productivity. Your database for inventory must be updated as merchandise is received. Having one person in receiving checking off received materials from a list, then sending the materials for stocking, then sending the list for database updating is not efficient. Inbound processing and the right Enterprise Resource Planning (ERP) software can allow one individual to check in materials and record the inventory in one step. Those materials can then be routed to the correct location in your warehouse.
Invest in a storage system that meets the needs of your facility. Your layout should be designed according to your unique operations. If certain items are ordered and shipped together, that is how they should be stored. If a numerical system works best, then that is the system to use. If your materials are stored on pallets, have the right system in place for easy pallet access. If you use bins, have the racking system to accommodate them. The better your material organization and access, the less time you lose in preparing orders for shipment.
The critical thing to keep in mind is that workers should not have to make several trips around your entire facility to pick orders for shipment. The more time employees spend while traveling around inside your facility, the more productivity that you are losing. Picking and packing are another area where otherwise efficient warehouses can quickly fail. If the wrong materials are pulled, someone not only has to retrieve the correct merchandise, but also the wrong items must be returned to where they belong.
When your stock is organized and marked with (for example) SKUs or a different system, your employees will be less likely to pull the wrong materials for shipments. With the right software, you can combine pick lists to complete several orders and then sort the individual items directly in your shipping department.
When it comes to loading and shipping, first in is not first out. Trucks must be loaded in the reverse order. The last items placed in the truck will be the first items unloaded. GPS systems can help you optimize your loading, routing and deliveries. This last step will help you ensure customer satisfaction. You will know where shipments are if customers have questions. Make use of the organization, communication, storage and software solutions available to keep your warehouse operations up to date. These implementations will improve your productivity, reduce errors and improve the bottom line for your facility.
Strategy 2: Organize your Distribution Centre, Optimize Slots and Manage a Proper Flow.
All slots should be organized to reflect items commonly ordered simultaneously, and slots should follow a logical flow to minimize material handling as much as possible. Re-slotting and otherwise organizing the warehouse should be an ongoing process that strives to keep relevant. It is all about productivity and managing staff strength efficiently to maximize everyone's ability in running a successful distribution centre. The right people processes, technology and tools help achieve the right results.
When a good proper flow has been set, it some-how managed to instil discipline in all staff and there is minimal excuse to deviate from the usual flow as it has been adapted as an official working system in the organization. With proper flow any new comers would be able to fit in easily as a standard routine will be carried out daily unless otherwise stated.
Factors to pay attention to when managing or running a Distribution Centre would be By Task, By System Type, By Technology and Modernization as it also enables you to optimize your company's entire supply chain management. Another running option could also be either Direct Distribution Model or Centralised Distribution Model as shown in the diagram below.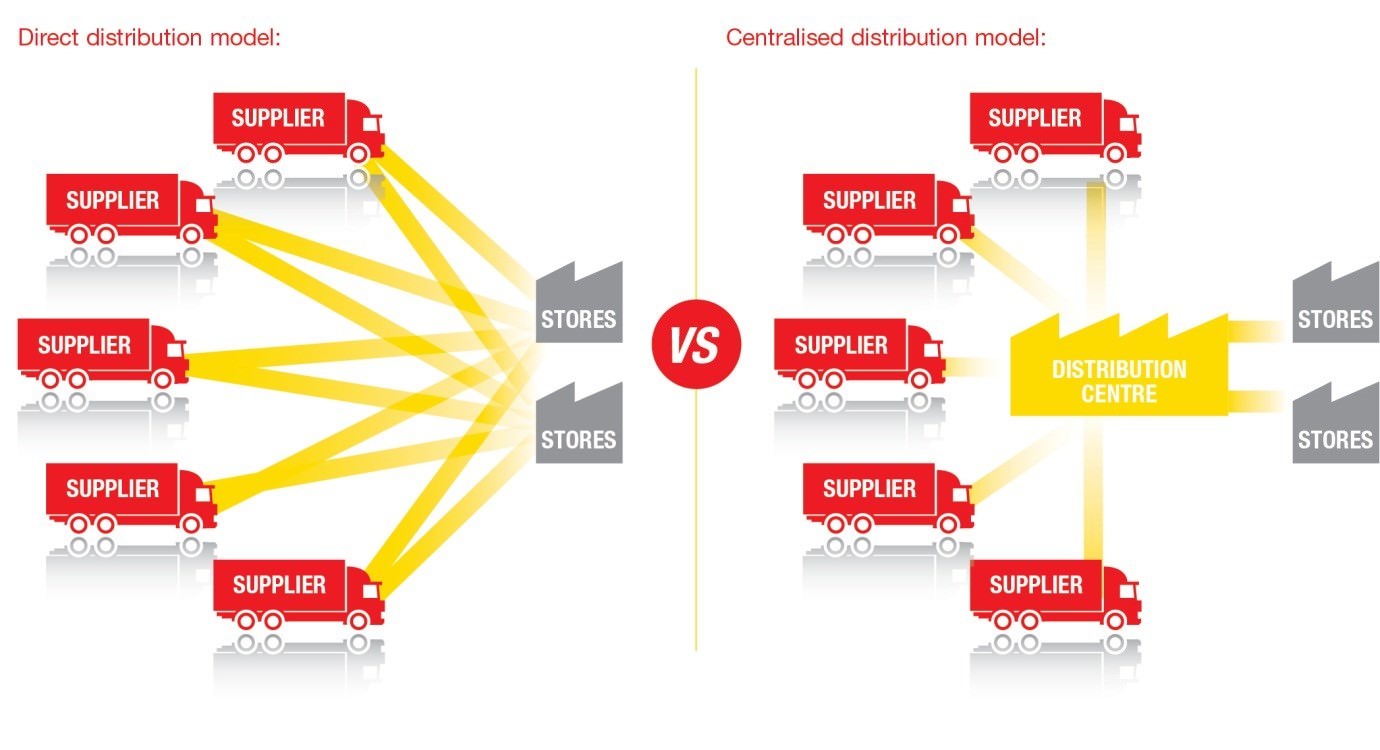 Strategy 3: Consider Outsourcing Systems or Operations.
Sometimes, third-party fulfilment or partnerships can help handle surges in operation. Outsourcing can include working directly with third parties to increase your resources, such as temporary labourers or equipment. A very common practice in Singapore is to appoint a third-party contractor to do delivery of goods to customers. The organization could publish an advertisement and from there select the best contractors to run the deliveries. Of course, the organization would have to bear in mind that it is necessary to train and equip them with the relevant trainings and product orientation or demonstration.
A tracking device could also be fixed onto each truck or van to monitor their delivery progress and whereabouts if necessary. This is to minimize crimes like missing items or break ins. Daily deliveries could also be monitored by the immediate supervisor directly from the distribution centre instead of having to call the driver every now and then.
Another option if engaging a third- party contractor is not feasible, renting trucks or vans to fulfil the deliveries may also appear to be ideal in terms of costing. This is because the organization is only responsible for its petrol and rental cost for daily functioning. It is the rental company who bears the cost of insurances, road tax, cost of servicing and the trucks monthly instalments if still not fully paid.
Another department where the distribution centre could outsource would be customer service. It is not necessary to have a customer service personnel in the distribution centre. A separate dedicated team could be stationed in another main office to specialized in handling customers queries and complaints. By so doing all resources in the distribution centre are exclusively meant for distribution only.
Strategy 4: Focus on Visibility and Appropriate Warehouse Practices.
The practices contain hard and fast rules and regulations that define the general conduct of the warehouse operation. Examples of the types of practices that organisations can adopt would be
1. organisational specific standard operating procedures
2. health and safety
3. human resources management
4. security
5. pest control
6. warehouse maintenance and cleaning
7. quality control
8. record keeping and reporting
9. reverse logistics – Return of goods and exit strategy in the event of downscaling or shutting down operations
10. disposal of obsolete and damaged goods
It is always proven that systematic operations would lead to systematic results and perfect practice makes practice perfect. If everything is in place it is easy to run and organization with the right expertise available. It is important for the Distribution Manager to be able to identify their 'Superstar' among their staff strength and appoint them as key role in the Distribution Centre. Two heads are always better than one.
Strategy 5: Ensure A Reliable and Predictable Supply with Continuous Improvement Process.
Without reliable supply a manufacturer will tend to hold inventory buffers. This costs the business and, even worse, may mean the wrong products are at the wrong place at the wrong time, resulting in supply shortfalls. Working on continuous improvement and operational excellence strategies is a foundation for successful end-to-end distribution centre.
Great and successful leaders measure everything almost everything they do and do post mortems of their promotions and results. Do an assessment. Work out a plan. Set objectives and accountability for improvement, review progress and start again. Having regular discussions with other staff do help in effectively managing a distribution as you get inputs from ground staff. For some they are even open to upward and downward appraisal.
---
References:
Barry, Curt. (2017). "10 Ways to Improve Warehouse Efficiency and Reduce Costs". Retrieved from http://multichannelmerchant.com/, accessed 03/09/2017.
FDL Group. (2017). "5 Tips for Warehouse and Distribution Center Management Success". Retrieved from http://www.fdlgroup.gr, accessed 03/09/2017.
Matos, Jerry. (2014). "5 Ways to use Technology to Run a More Productive Warehouse". Retrieved from http://www.apriso.com, accessed 03/09/2017.
White, Justin. (2015). "Warehouse and Inventory Management". Retrieved from http://dlca.logcluster.org, accessed 03/09/2017.