Over the past 15 years one has seen technology infiltrate in each and every corner of our lives. In parallel with this, as the automation technology develops and matures, we have seen automated warehouse being accepted as a standard technology. Technology is also improving simultaneously with the implementation of "hybrid" manual operations and handling techniques.
Developments in Automation
Within warehouse automation, the technologies that were at the "leading edge" 15 years ago are now widely accepted by various players in the industry. For instance, Automated pallet storage and retrieval. Most manufacturers in the maritime sector have adopted this as their strategic direction for warehouse technology in mature markets. Mini-load storage and retrieval for tote bins have been around since the 1980s. These are now upgraded through advancement of control systems to Automated Guided Vehicles that offers a safe and predictable method of delivery, while avoiding interference with human and building factors.
These "mature" technologies have expanded the envelope of their applications: Mini-load systems will now store a range of carton sizes, as well as uniform tote bins. Acceleration and speeds of equipment have been enhanced with the improvement of control technology while lowering the break point for economic justification of technology. Present AGVs that are laser guided, eliminates the need for wires to be sunk in the floor. Proximity sensing system vision are added to allow AGVs to roam freely during applications/operations such as vehicle loading.
Automation and Robotics
Introduction of robotics into the supply chain enables cost reductions, improves efficiency, increases productivity and accuracy for companies that have adopted various robotic solutions to tackle the variety of tasks. Today's robotic technologies have taken many forms and serve a number of important functions/roles in the supply chain, from assembling widgets to reading bar codes and moving products from one area of a warehouse to another. Robotics appear to offer a promising future in distribution as well. Daimler is looking at ways to automate smart, economical courier vehicles. And, of course, some companies, like Amazon, are making strides in the development of drone delivery.
The common perception of robots being a threat to our jobs may not always be the case on all instances. In fact, it may be more of a likelihood that these robotic technologies in the supply chain are sparking new fields and opportunities which will bound to increase the need for robotic maintenance and expertise for one grows along from there on managing them.
Warehouse Robotics Technology
New robotics technology has become one of the most sought-after technologies for warehouse management. Leading-edge manufacturers are partnering with providers of warehouse management systems to create customized software and smart robots that help to manage the movement, storage and sorting of warehouse inventory. With increasing order volumes, numerous products to navigate, highly personalized order packing and faster shipping requirements, robotics solutions will help effectively respond to volume growth and perform more tasks with lesser labor and at a lower cost.
The increasing demand for higher levels of performance and flexibility in warehouse robotics is stimulating some innovative product developments and early adoptions of mobile warehouse robotics. As a warehouse manager, one should choose a robotic technology that best caters for their needs in all aspects of work flow.
Mobile Technology
In most warehouses, an average clerk takes approximate 30+ trips a day back and forth from a fixed station to print picking lists and labels or enter shipment data into a computer. Mobile technology gives workers immediate access to systems from anywhere in the warehouse. Even till to date, many warehouses are using fixed stations to perform basic data entry or to print picking list and labels. Warehouses that do so are inherently inefficient. Some mobile technologies that increase warehouse efficiency include: mobile computers & wearable barcode scanners.
• Mobile Computers
Strong computing power is no longer confined to desktop computers and servers. Warehouses can now find the same reliability, computing power, and standard business applications in mobile computers and rugged tablets. Most rugged tablets and mobile computers have been designed to support extreme warehouse conditions (temperature, humidity, dust, shock, etc.) and many have military grade certification (MIL-STD 810G ruggedness) so you don't have to worry about durability. They are also equipped with long lasting batteries and reliable wireless network capabilities.
• New Smart Wearable Barcode Scanner
Implementation of New Smart Wearable Barcode Scanner is a must for an organization that striving to modernize their warehouse operations and increase warehouse efficiency. Barcode scanners are at the centre of an efficient warehouse. From receiving, to put-away, to picking, packing, sorting, and shipping, barcode scanners are no longer a nice to have – but a must have.
Barcode scanners are also evolving into a more mobile, more ergonomic & friendly device than its predecessor – the handheld scanner/computer. Solutions like the wearable Ring barcode scanner (as shown below) provides hands-free benefit that allow warehouse workers to remain productive and mobile without having to compromise between picking cargo or holding the scanner.
New smart wearable data terminal is a wearable barcode data collection terminal, which is different from the traditional data acquisition terminal. It inherited the merits of the ring type barcode scanner, much convenient to scan terminals fixed on your hands, so that you can upgrade the mobile phone or tablet pc into a professional barcode data collection terminal, you can easily use it for item selection, sorting, recording.
Smart wearable data terminal can make your workers keep their hands and eyes on the materials when they are handling and capture barcode on the fly with ring barcode scanner. In warehouse management, freight forwarding, pipeline material tracking, product barcode traceability, shopping malls and so on, plays an important part in application value, improve your working efficiency, reduce the personnel allocation, as well as exempting the expensive barcode data collection system.
Smart Glasses New Standard in Order Picking
The smart glasses provide visual displays of order picking instructions along with information on where items are located and where they need to be placed on a cart, freeing pickers' hands of paper instructions and allowing them to work more efficiently and comfortably.
The technology has matured to become a standard, replicable solution for customers, allowing faster and easier implementation in their operations, helping them to benefit from productivity gains with increased speed of operations and better picking accuracy.
Employees have been enthusiastic about being able to use state-of-the-art technology and are pleased with how light the smart glasses are, and how much more comfortable the process is now with hands-free picking.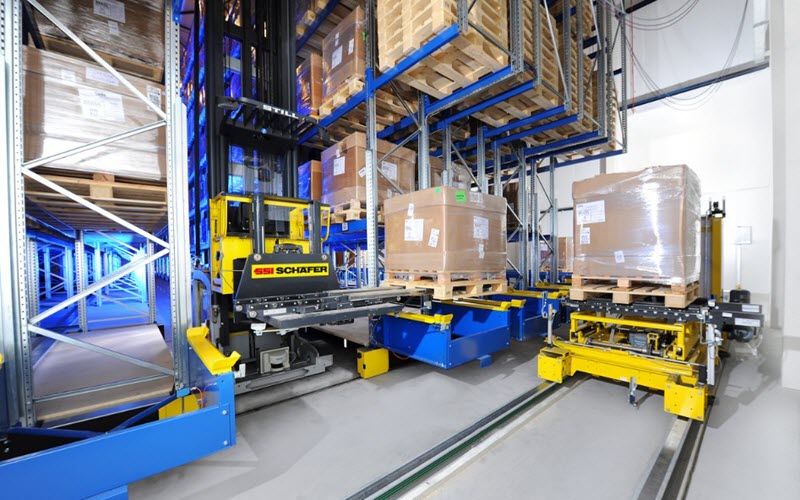 ATL Automatic Truck Loading
ATL is the acronym for Automatic Truck Loading and it refers to the automation of loading trucks and trailers with products using several different types of Automated Guided Vehicle systems.
Loading and unloading a 53-foot trailer with palletized cargo can easily take between 30 to 45 minutes using a forklift. By contrast, loading and unloading a trailer using one of several automated systems from Ancra Systems can be accomplished in about three minutes.
Traditional forklift-based cargo movement within a warehouse or on a dock can pose safety risks. OSHA statistics indicate that there are roughly 85 forklift-related fatalities and 34,900 serious injuries every year. With Ancra Systems, precision automation significantly reduces the opportunity for human error to adversely affect cargo movement within a facility, including its impact on the loading and unloading process.
Conclusion
Warehousing and supply chain investments are mostly the afterthoughts during the budgeting process and for the longest time been considered as a manual process. No doubt this concept is challenged to be changed in the upcoming years with the significant technological innovation processes in the warehouse. Many companies still consider it as either too expensive to implement, or are concerned about the length of time to ROI, which is typically around five to ten years. Rather than focusing on any specific idea for an innovative warehouse, the key to keep your business on the front of the industry is by following the trends that works best for the organization.
---
References:
Andrew Marder. (2017). "5 Warehouse Technology Must Haves in 2017". Retrieved from https://blog.capterra.com/warehouse-technology-2017/ (accessed 10/12/2017)
Adam Robinson. (2016). "7 Innovative Warehouse Management Technologies to Adopt" Retrieved from http://www.supplychainbrief.com/warehousing/?open-article-id=5940241&article-title=7-innovative-warehouse-management-technologies-to-adopt&blog-domain=cerasis.com&blog-title=cerasis (accessed 10/12/2017)
Brian Jackson. (2017). "5 lessons from new technology leaders – Bruce Ross, Royal Bank of Canada" Retrieved from https://www.itworldcanada.com/article/5-lessons-from-new-technology-leaders-bruce-ross-royal-bank-of-canada/397794 (accessed 10/12/2017)
GT Staff. (2016). "Automatic Truck Loading and UnloadingTechnology Coming to U.S.Market"Retrieved from http://www.globaltrademag.com/global-logistics/automatic-truck-loading-unloading-technology-coming-u-s-market(accessed 10/12/2017)
Hector Sunol. (2016). "3 Technologies to Improve Warehouse Efficiency" Retrieved from
http://articles.cyzerg.com/3-technologies-to-improve-warehouse-efficiency (accessed 10/12/2017)
Karl Siebrecht. (2016). "The Top 5 Modern Logistics Technologies" Retrieved from https://www.flexe.com/blog/top-5-logistics-technologies/ (accessed 10/12/2017)
Markus Voss. (2017). "Smart Glasses New Standard in Order Picking" Retrieved from http://www.supplychain247.com/article/smart_glasses_new_standard_in_order_picking (accessed 10/12/2017)